JPEG is one of the widely used photo file formats that you can use to save your photographs. Many people using this file format have come across situations when their JPEG files get corrupted. There are several reasons why these photographs actually get corrupted. Whenever you experience such a situation, do not worry as many JPEG file repair methods are available online that you can try.
Usually, the compression for digital images occurs because of a virus, corrupted drive or USB, or an error while transferring images to the computer. You may have accidentally deleted photos or formatted the storage media where it is stored. Instances may occur when you may fail to preview the JPEG photos even after recovering them, as they have been damaged or corrupted.
In these situations, you need to apply methods to repair corrupted JPEG files and make them accessible. Here, in this article, we have provided you the best jpeg repair methods (manual methods and with JPEG repair software). 
Why do JPEG Files Get Corrupted?
Before you learn various JPEG file repair methods to fix corrupted or damaged JPEG files, it is important to know the exact cause of the same. JPEG photos that you shot with a digital camera are generally saved in the SD card or built-in memory of your camera. Your system might also get disconnected during the transfer of these JPEG files from the camera to any other device. All these instances can lead to corruption in JPEG or JPG photos.
Some other reasons why your JPEG pictures may get corrupted or damaged include:
The corrupted or damaged header of JPEG files
You may also get JPEG invalid image error while opening the files
Taking JPEG pictures when your digital devices do not have enough battery or storage space
Any changes done in the JPEG file extension
When the storage media where your JPEG file is saved get infected with a virus
If you save your image on an SD card with a bad sector, then it will be unable to open the JPEG file until you recover its bad sector.
Can Corrupted/Damaged/Broken JPEG Files Be Repaired?
Well, it is a common question when you get into these situations all of sudden. So the answer is YES, you can easily repair corrupted JPEG files by using some effective ways. One of the best methods is to download and install JPEG photo repair software and go through the steps as provided.
Repairing the JPEG file using repair software is the best option as it will definitely help you in just three to four steps. Also, you can try other manual methods as alternatives if you don't want to install any third-party software programs.
Quick Methods To Repair Corrupted/Damaged/Broken JPEG Files
In this part of the blog post, we have provided some effective methods to repair your JPEG Files. You can opt for any of these JPEG file repair methods.
Method 01: Perform CHKDSK Scan To Repair Corrupted JPEG Files
You can try Command Prompt on Windows devices to perform the CHKDSK command and repair the JPEG file. Usually, this method is best to repair JPEG files that get damaged due to bad sectors on the storage devices. Given below are some simple steps that you can apply to know how to repair JPEG files using this method:
Firstly, connect the storage device that contains JPEG files that you have to recover to your computer.
Next, type 'command' in the Windows Search box located in the bottom-left corner.
After this, click on the Command prompt and type the CHKDSK (drive letter) /r command in the Command Window.
Once you are done with the above steps restart your computer and check if you are able to access the JPEG files.
Method 02: Repair Damaged JPEG Files Via Command Prompt
You can also use Windows Command Prompt to repair corrupted JPEG files in a few simple steps. For this, you have to apply the below-given steps:
Firstly, you need to open the command prompt window in your system. For this, type 'cmd' in the search box and press Enter key.
Next, type 'SFC/scannow' in the pop-up window and press Enter key. After this, your system will start scanning to detect if any corrupt or damaged JPEG files are stored.
Once the scanning process gets successfully completed, restart your computer and check if you are able to access the JPEG/JPG image files.
Method 03: Convert JPEG Files to Another Format
If when trying to open a photo, your JPEG file is getting opened in any other format, then you need to change its file format. Though both JPEG and JPG formats are the same, some image viewers fail to open the JPEG but will open JPG or vice versa. To avoid such a situation, you can change the file format of your JPEG files to any other. All you have to do is:
Open the Windows menu and look for File Explorer under "Windows System" on the device.
From the File Explorer window, go to "View" and tick to check "File name extensions". If the extension is.JPEG or.JPG after the file name, right-click on the file and select "Rename".
Now, Windows will display the file name on the screen. Put your cursor on the right-hand side of.JPG and change it to.JPEG or vice versa. After that, Windows might warn you that renaming the file can make it unusable; you can ignore this and click yes to continue.
Method 04: Use JPEG Repair Software to Repair Corrupted Photo
If the above-mentioned JPEG Files Repair methods fail to repair corrupted/damaged/broken JPEG Files, you can also try JPEG repair software. Among various such software available online, we recommend you to use Stellar Repair for Photo. This software can help you to repair corrupted, damaged, or inaccessible JPEG images in just three-four simple steps. Not only JPEG files, you can use this software to repair RAW image formats, like ARW, CR2, CR3, NEF, NRW, MRW, etc.
The software is completely trusted and available at an affordable price. Even the software allows you to preview the repaired files before saving them in your system. You can repair multiple images of different formats in one go using Stellar Repair for Photo software. The best thing about this JPEG repair software is that it is compatible with both Windows and Mac devices.
Check out the step-by-step process of Stellar Repair for Photo software given below:
Step 1: Download, install and launch the Stellar Photo Repair Software on your device.
Step 2: From the home screen of the software, click the 'Add File' button to repair corrupt/damaged image files.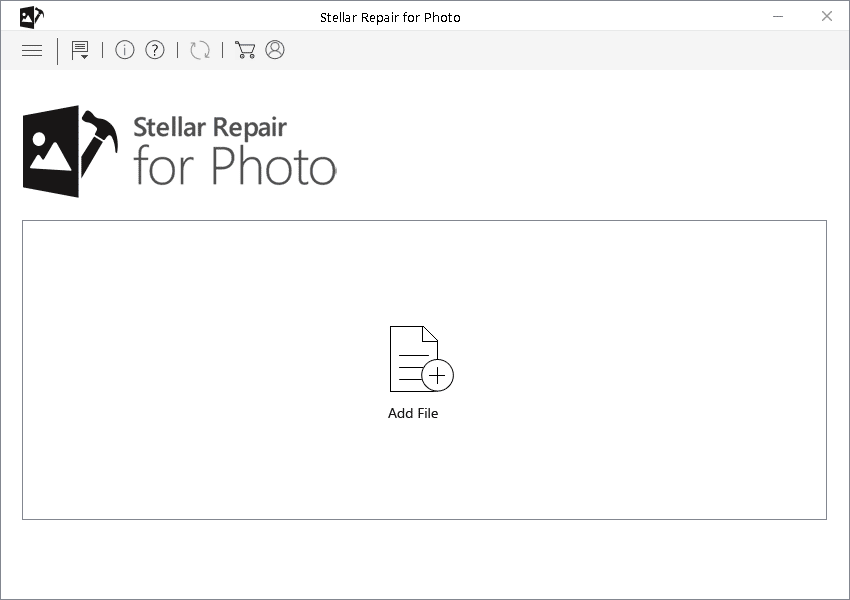 Step 3: Now, you need to select the files that you want to repair and click on the 'Repair' button to start the repairing process.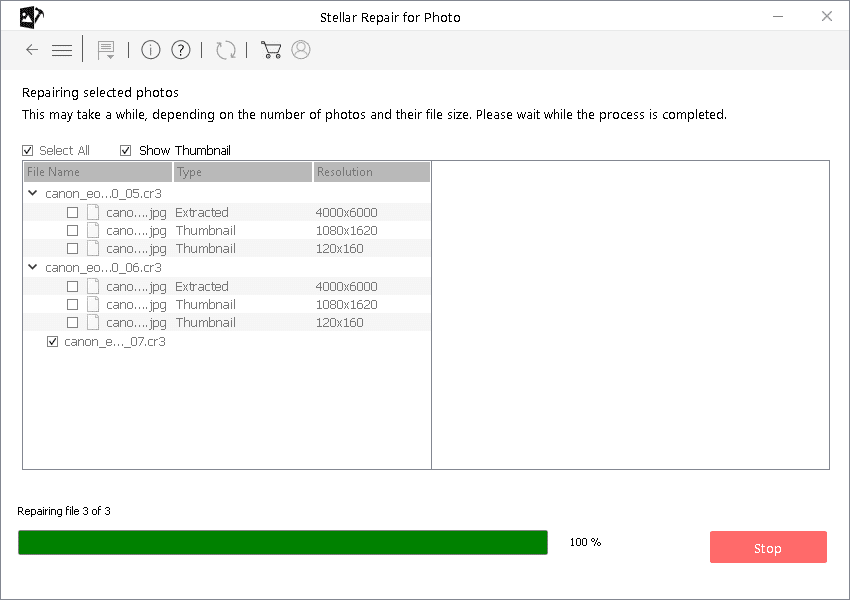 Step 4: Once the repairing process gets completed, click on the 'Save Repaired Files' button. This allows you to preview and save the repaired images in the desired location on your device.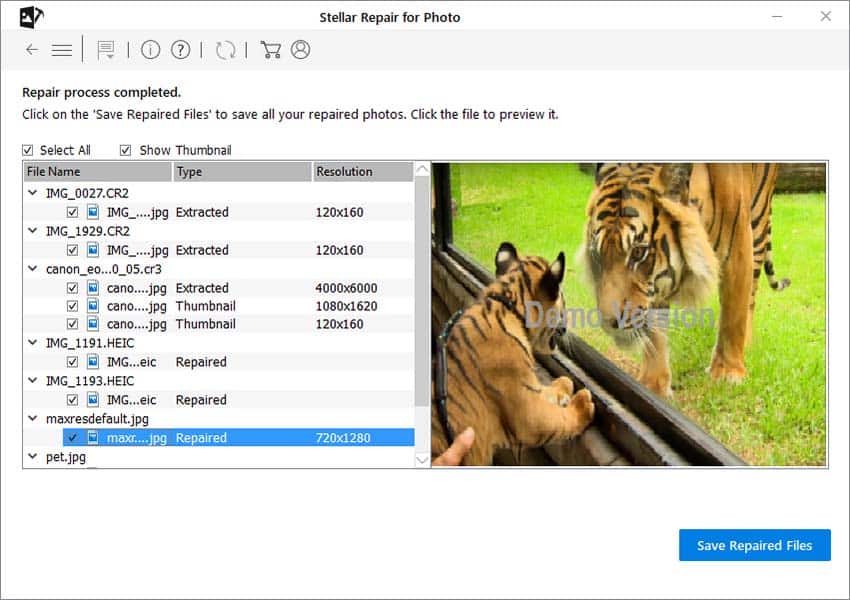 Stellar Photo Recovery software is good at recovering the pictures deleted due to accidental deletion, storage device formatting, partition loss, and other reasons. More importantly, the software is available in different versions, i.e., Standard, Professional, and Premium. You can check anyone as per your requirements.
Wrapping up:
Hope, the above methods help you to repair corrupted, damaged, and broken JPEG files. While the first three options are manual ones, and you can perform them using Windows in-built tools. If these methods fail to recover your photos, then you can use Stellar repair for photo software to save your time and effort. This JPEG file repair tool will not only save you time but also repair your precious corrupted photos effectively and easily. Must give it a try to fix corrupted JPEG files.
Also Read: Methods To Record Your Screen In Windows 10